Phase B is related to the development of a Business Architecture to support an agreed Architecture Vision. The Business Architecture describes the product and/or service strategy, and the organizational, functional, process, information, and geographic aspects of the business environment.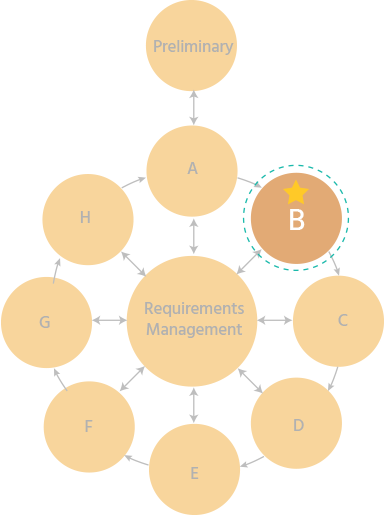 Phase B includes the following EA activities:
The fundamental organization of a business, embodied in

its business processes and people,
their relationships to each other and the environment
and the principles governing its design and evolution

Shows how the organization meets its business goals
Objectives
The objectives of Phase B are to:
Develop the Target Business Architecture that describes how the enterprise needs to operate to achieve the business goals, and respond to the strategic drivers set out in the Architecture Vision, in a way that addresses the Statement of Architecture Work and stakeholder concerns
Identify candidate Architecture Roadmap components based upon gaps between the Baseline and Target Business Architectures
Inputs
This section defines the inputs to Phase B.
Reference Materials External to the Enterprise
Non-Architectural Inputs
Architectural Inputs
 Steps
The level of detail addressed in Phase B will depend on the scope and goals of the overall architecture effort. New models characterizing the needs of the business will need to be defined in detail during Phase B. Existing business artifacts to be carried over and supported in the target environment may already have been adequately defined in previous architectural work; but, if not, they too will need to be defined in Phase B.
The steps in Phase B are as follows:
Select Reference Models, Viewpoints, and Tools
Develop Baseline Business Architecture Description
Develop Target Business Architecture Description
Perform Gap Analysis
Define Candidate Roadmap Components
Resolve Impacts Across the Architecture Landscape
Conduct Formal Stakeholder Review
Finalize the Business Architecture
Create the Architecture Definition Document
Outputs
The outputs of Phase B may include, but are not restricted to:
Refined and updated versions of the Architecture Vision phase deliverables, where applicable, including:
Draft Architecture Definition Document
Draft Architecture Requirements Specification
Business Architecture components of an Architecture Roadmap
The outputs may include some or all of the following:
Catalogs:

Value Stream catalog
Business Capabilities catalog
Value Stream Stages catalog
Organization/Actor catalog
Driver/Goal/Objective catalog
Role catalog
Business Service/Function catalog
Location catalog
Process/Event/Control/Product catalog
Contract/Measure catalog

Matrices:

Value Stream/Capability matrix
Strategy/Capability matrix
Capability/Organization matrix
Business Interaction matrix
Actor/Role matrix

Diagrams:

Business Model diagram
Business Capability Map
Value Stream Map
Organization Map
Business Footprint diagram
Business Service/Information diagram
Functional Decomposition diagram
Product Lifecycle diagram
Goal/Objective/Service diagram
Business Use-Case diagram
Organization Decomposition diagram
Process Flow diagram
Event diagram