Phases E (Opportunity & Solution) describes the process of identifying delivery vehicles (projects, programs, or portfolios) that effectively deliver the Target Architecture identified in previous phases. It concentrates on how to deliver the architecture. It takes into account the complete set of gaps between the Target and Baseline Architectures in all architecture domains, and logically groups changes into work packages within the enterprise's portfolios.
This is an effort to build a best-fit roadmap that is based upon the stakeholder requirements, the enterprise's business transformation readiness, identified opportunities and solutions, and identified implementation constraints. The key is to focus on the final target while realizing incremental business value.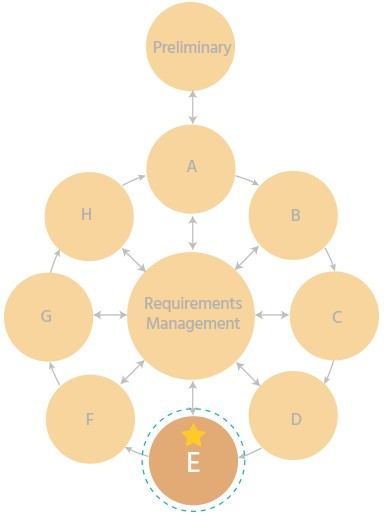 This Phase involves the following EA development activities:
Perform initial implementation planning
Identify the major implementation projects
Determine if an incremental approach is required, if so define Transition Architectures Decide on approach

Make v Buy v Re-Use
Outsource
COTS
Open Source

Assess priorities
Identify dependencies
Objectives
The objectives of Phase E are to:
Generate the initial complete version of the Architecture Roadmap, based upon the gap analysis and candidate Architecture Roadmap components from Phases B, C, and D
Determine whether an incremental approach is required, and if so identify Transition Architectures that will deliver continuous business value
Define the overall solution building blocks to finalize the Target Architecture based on the Architecture Building Blocks (ABBs)
Inputs
This section defines the inputs to Phase E.
Reference Materials External to the Enterprise
Non-Architectural Inputs
Architectural Inputs
Steps
The level of detail addressed in Phase E will depend on the scope and goals of the overall architecture effort. The order of the steps in Phase E as well as the time at which they are formally started and completed should be adapted to the situation at hand in accordance with the established Architecture Governance.
The steps in Phase E are as follows:
Determine/Confirm Key Corporate Change Attributes
Determine Business Constraints for Implementation
Review and Consolidate Gap Analysis Results from Phases B to D
Review Consolidated Requirements Across Related Business Functions
Consolidate and Reconcile Interoperability Requirements
Refine and Validate Dependencies
Confirm Readiness and Risk for Business Transformation
Formulate Implementation and Migration Strategy
Identify and Group Major Work Packages
 Identify Transition Architectures
Create the Architecture Roadmap & Implementation and Migration Plan
Outputs
The outputs of Phase E may include, but are not restricted to:
Refined and updated version of the Architecture Vision phase deliverables, where applicable, including:
Draft Architecture Definition Document
Draft Architecture Requirements Specification
Capability Assessments
Architecture Roadmap
Implementation and Migration Plan, Version 0.1, including:
The outputs may include some or all of the following:
Diagrams:

Project Context diagram
Benefits diagram